စာအုပ်ပေါင်း 3.5 million ရှိတဲ့ စာအုပ် စတိုး၊ နေ့စဉ်စာအုပ်ပေါင်း ၂၀၀၀၀ လောက် အသစ်တင်တဲ့ စာအုပ်စတိုး၊
ဒီ Store က စာအုပ်တွေကို ဖတ်ချင်ရင်တော့ ဒီလိုလက်ထဲမှာ အလွယ်တကူ သယ်သွားနိုင်တဲ့ Amazon Kindle Paperwhite ပဲ အကောင်းဆုံးပါ။
300PPI display နဲ့ အသစ်ထွက်ရှိလာတဲ့ kindle Paperwhite က အခြား social media တွေမပါဝင်လို့ စာဖတ်ခြင်းကို အကောင်းဆုံး အာရုံစိုက်လုပ်ဆောင်နိုင်မှာပါ။
နည်းပညာကြောင့် social media အသုံးပြုများလို့ စာဖတ်အားနည်းလာတဲ့ ဒီဘက် generation တွေကို စာဖတ်ဖို့ တွန်းအားပေးမဲ့ အကောင်းဆုံး နည်းပညာ ပစ္စည်းပါပဲ။
Display က တကယ့် စာအုပ်စာရွက်အတိုင်းပါ။
နေရောင်ထဲမှာ စာဖတ်ရင် အခြား Tablet ထက် သာတဲ့ အချက်က Anti-Glare ပါဝင်တာပါ။
စာဖတ်ခြင်း တစ်ခုတည်းကိုပဲ ပြိုင်မယ်ဆိုရင် အကောင်းဆုံး E-Book Reader ပါ။
Battery က အားအပြည့်သွင်း (၃) ပတ်နှင့်အထက် အသုံးခံပြီး စာအုပ်ပေါင်းများစွာ သွားလေရာ သယ်သွားနိုင်ပါတယ်။
ခေတ်တွေဘယ်လိုပြောင်းပြောင်း စာအုပ်စာပေဆိုတာ လူ့မိတ်ဆွေပဲ မဟုတ်ပါလား။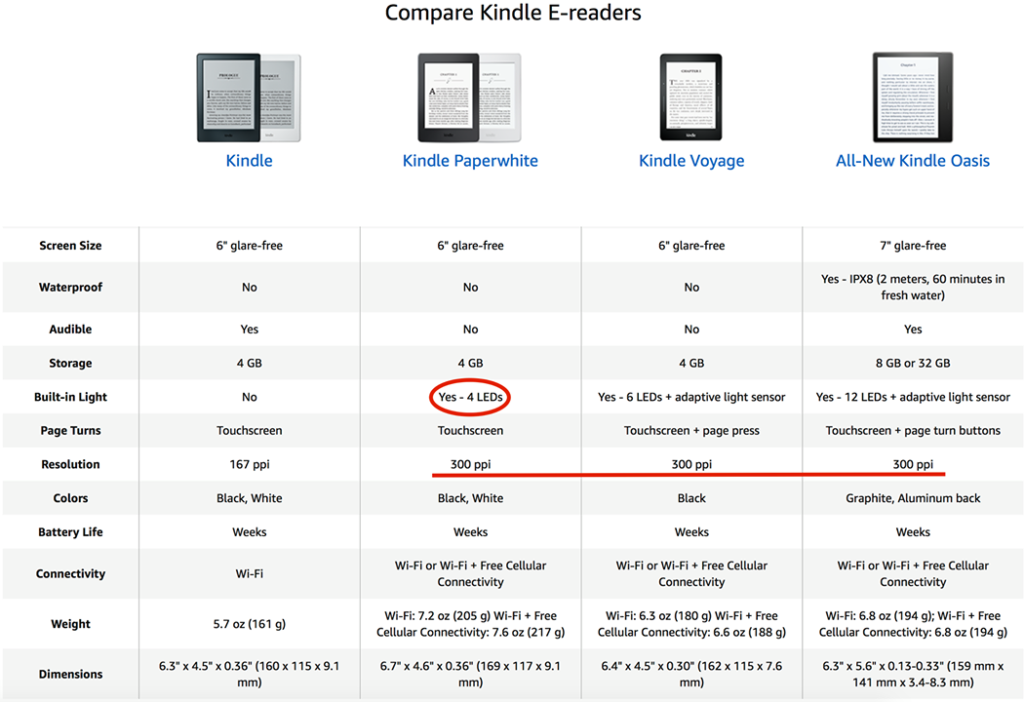 Screen Fresh မလို/မရှိတဲ့ eBook Reader တွေ
လက်ရှိနည်းပညာအရ ဘယ်လောက် ကောင်းတဲ့ Display ဖြစ်ပါစေ ပုံရိပ်ဖော်ပြနိုင်ဖို့ millisecond အတွင်းမှာ ကြိမ်နှုန်းများစွာ ဖွင့်လိုက်ပိတ်လိုက်လုပ်ရပါတယ်။ နည်းပညာမြှင့် LCD မျက်နှာပြင်တွင်မှာ 120Mhz ထိ Screen Fresh Rate ရှိနေလို့ သာမန်မျက်စိဖြင့် ကြည့်သော်လည်း ဖွင့်/ပိတ်လုပ်နေတာ မသိသာပါဘူး။ သိုသော်လဲ ဖွင့်/ပိတ် ကြိမ်ဖန်များစွာလုပ်နေရလို့ အခြား Multimedia အတွက်သင့်တော်ပေမဲ့ စာအကြာကြီး ဖတ်ဖို့ ဆိုရင်တော့ မသင့်တော်ပါဘူး။
Kindle eBook Reader တွေမှာ တော့ Screen Fresh မလိုတဲ့ Display တွေနဲ့ တည်ဆောက်ထားလို့ တကယ့် စာအုပ်မျက်နှာပြင်အတိုင်းဖြစ်ပါတယ်။ စာလုံးတွေကိုဖော်ပြနိုင်ဖို့ Battery မလို့တော့ဘဲ စာမျက်နှာ တစ်ခုနဲ့ တစ်ခု အကူးအပြောင်းမှာပဲ energy လိုအပ်တာဖြစ်လို့ Battery ကြာရှည်စွာ အသုံးပြုနိုင်ပါတယ်။
Specification
Now available in black or white
Higher resolution display (300 ppi) – with twice as many pixels
Built-in adjustable light – read day and night
No screen glare, even in bright sunlight, unlike tablets
A single battery charge lasts weeks, not hours
Massive selection, low prices – over a million titles $2.99 or less
Prime members read free with unlimited access to over a thousand titles
Highest resolution e-reader display
With twice as many pixels as the previous generation, Kindle Paperwhite has an improved high-resolution 300 ppi display for crisp, laser quality text.
No glare in bright sunlight
Unlike reflective tablet and smartphone screens, Kindle Paperwhite reads like paper.
Read comfortably with one hand
Lighter than a paperback, comfortably hold Kindle Paperwhite in one hand for those times when you can't put the book down.
Charge monthly, not daily
Kindle Paperwhite won't leave you tethered to an outlet. A single charge can last up to six weeks (based on a half hour of reading per day with wireless turned off and the light setting at ten).
Won't tire your eyes in the dark
Kindle Paperwhite guides light toward the surface of the display with its built-in front light—unlike back-lit tablets that shine in your eyes—so you can read comfortably for hours without eyestrain. Adjust your screen's brightness for great reading in any light.
Next-generation reading experience
Kindle Paperwhite offers Bookerly, an exclusive font crafted from the ground up for reading on digital screens. Warm and contemporary, Bookerly is inspired by the artistry of the best fonts in modern print books, but is hand-crafted for great readability at any font size.Typesetting engine lays out words just as the author intended for beautiful rendering of pages. With improved character spacing and the addition of hyphenation, justification, kerning, ligatures, and drop cap support, our best-in-class typography helps you read faster with less eyestrain.Enjoy reading with larger font sizes without compromising your reading experience. Page layout and margins automatically adapt to work well at even the largest font sizes. The typography and layout improvements are available on over half a million books, including many best sellers, with thousands more being added every week.
Lose yourself in a book
By design, Kindle Paperwhite is purpose-built for reading and creates a sanctuary so you can lose yourself in a book. Unlike tablets and phones, Kindle doesn't distract you with social media, emails, and text messages.Dr.Zaw Zaw Dr.Mac