M1 Native macOS Software ဖြစ်ပါသည်။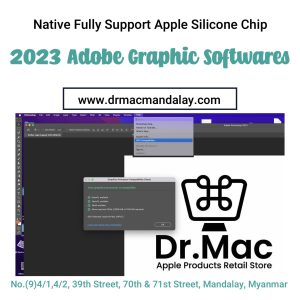 What news in Adobe Illustrator
Illustrator on the desktop
DECEMBER 2022 RELEASE (VERSION 27)
Illustrator automatically selects a preset based on the artwork, provides cleaner sketches, and improves output for small-sized images.
Make bullets and numbering editable by converting them to text.
System Requirement
Multicore Intel processor (with 64-bit support) with SSE 4.2 or later.

macOS version 12.0 (Monterey)
macOS version 11 (Big Sur)
macOS version 10.15 (Catalina)

8 GB of RAM (16 GB recommended)

3 GB of available hard-disk space for installation; additional free space required during installation; SSD recommended

1024 x 768 display (1920 x 1080 recommended)

Scalable UI Limitations: Minimum resolution required is 1920 x 1080.

For optimum GPU Performance, your Mac should have a minimum of 1024 MB of VRAM (2 GB recommended), and your computer must support Metal.

Supported machines

iMac 4K
iMac 5K
MacBook Pro Retina
Mac Pro connected to a HiDPI monitor
Mac mini connected to a HiDPI monitor

To check for VRAM value, go to Mac > About This Mac (Graphics information). See this Apple support document to find out if your computer supports the required OpenGL version (4.0 or later).

Limitations in Outline Mode: Requires Retina display.
—————————————
Dr.Mac Telegram Channel
———————————————
Dr.Mac's iOS Apps Store Link 
Dr.Mac's Google Play Store Link
——————————————
Dr.Mac Gear
https://kit.co/Dr.Mac
—————————-
Open 
⌚️- 10𝖆𝖒 – 6 𝖕𝖒
ပိတ်ရက်မရှိ ဖွင့်လှစ်ပါသည်။
—————————-
Dr.Mac Address
39th, Between 70th &71st Street, Near Bamaw Monastery
KankawDaw Hostel, Mandalay
http://bit.ly/2FW80h7 (Google Map)
https://apple.co/3gxHWJw (Apple Map)
——————
Dr.Mac's Youtube Subscriptions ပြုလုပ်ထားပေးပါ။
—————————
Ph- 09798666614, 09963666614
Viber- 09798666614
Facebook Page- Dr.Mac
—————————-